Pumpkin Cherry Squares

Ingredients
1 cup cassava flour
½ cup coconut flour
1 tbsp vanilla extract
1 tsp apple cider vinegar
½ tsp baking soda
2 medium ripe bananas
½ cup maple syrup
½ cup coconut oil
1 cup pumpkin puree
⅓ cup dried cherries, chopped
1 tbsp pumpkin spice seasoning
Pinch sea salt
Instructions
Preheat the oven to 350 degrees.
Grease baking 9" by 9" baking dish.
In a large mixing bowl, add the vanilla extract, apple cider vinegar, bananas, maple syrup, coconut oil and pumpkin puree. Mix well until the bananas fully blend with mixture.
In another large mixing bowl, whisk dry ingredients together. Add cassava flour, coconut flour, baking soda, cherries, salt and pumpkin spice seasoning.
Slowly add the wet ingredients with the dry ingredients. Mix well and pour batter into the baking dish.
Bake for 30-40 minutes or until a toothpick is fully clean without batter on it.
Allow to cool before cutting into squares.
© 2020 © 2018 GrassRoots Functional Medicine
Free AIP & Paleo Holiday Recipes eBook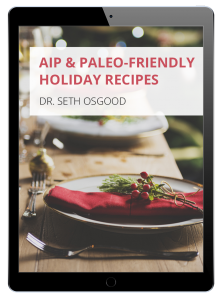 My team and I gathered our favorite gut-friendly seasonal recipes for our AIP & Paleo Holiday Recipes eBook!

Inside, you'll find delicious favorites your whole family will love, including:

 - Pumpkin Cherry Squares
 - Hearty Butternut Squash Soup
 - Roasted Chicken & Winter Salad
 - AIP Hot "Chocolate"
 - and more!