Healthy eating is a goal for many, but the price of higher quality ingredients can be a big hurdle to making changes to your diet. We believe that budget shouldn't hold you back from improving your health and so we're sharing tips on how to make healthy eating more affordable, even on a tighter budget.
In part one of this series, we talked about how meal planning and prepping can save you time and money each week. To briefly review, take some time to plan out some meal ideas and take inventory of what's in your pantry before making your grocery list each week. You'll have a better idea of what you really need to buy or restock before getting to the store. (We've got a few other tips to help you save money in the planning process – read the full article here.
Today, we'll talk about doing the actual shopping and ways you can save while still including a variety of nutrient dense foods to your meals.


Shop Smart
With a shopping list in hand, based on the holes in your pantry and the meals you've planned for the week, it's time to hit the stores. Here are tips for getting the most nutrient bang for your buck:
Compare Prices

Grocery prices vary widely between stores and online retailers, so it's worth finding the best deal on the items you purchase regularly. 
Make a list of the staples you buy regularly and compare prices to find the best place to source them. 

Some items are actually cheaper at a health food store or co-op than at a conventional grocery store. 

Many budget chains have a surprising selection of affordable organic foods. For example, the grass-fed organic ground beef and wild-caught canned salmon at Aldi and the organic sweet potatoes at Market Basket are excellent prices.

Stock up on non-perishables when they go on sale (i.e. canned coconut milk)
Shop Online

There are many newer online retailers and services that offer organic foods at much lower prices than you'll find at the grocery store.
Explore

Vitacost

,

Thrive Market

, and

iHerb

.

Look for staples such as canned fish, coconut oil, rolled oats, cocoa powder, and natural cleaning products and specialty items including coconut aminos, nutritional yeast, and tigernut flour.

Buy enough to qualify for free shipping.
Buy in Bulk

You'll often pay less per serving when you purchase in bulk, just be smart about what you choose and only buy items you will actually use.
If you have the storage space and will use foods before they go bad, buy in bulk from stores such as Costco or order from

Azure Standard

. 

Shop the bulk bins at health food stores for nuts, spices, dried beans, etc. Buy only what you need to avoid waste.

Buy ingredients rather than products (i.e. cassava flour rather than premade crackers).
Choose Less Expensive Meats

Don't be discouraged from buying high-quality animal foods by the price tags on 100% grass-fed steak or organic chicken breast. Skip the prime ribs and choose these budget-friendly cuts instead:
Whole chicken

: These are easy to prepare (simply roast at 350º for 1.5-2 hours) and provide multiple meals at a much better price per pound than breasts or thighs. You can even use the leftover bones to create your own broths and stocks.

Slow cooker cuts

: Chuck roasts, rump roasts, brisket, and oxtail are among the more affordable cuts of grassfed beef, and they become tender and flavorful when cooked low and slow in a CrockPot.

Ground meat

: Grass-fed ground beef is a great deal compared with prime cuts like steak, and it can be prepared in a variety of ways: burgers, meatballs, meatloaf, sloppy joes, chili, shepherd's pie, taco meat, and more.

Organ meats

: These are the kings of nutrient-density and incredibly affordable. Grass-fed beef liver often costs $2-4 a pound from a local farmer, and it contains 34 times more vitamin B12, 54 times more folate, and 1,156 times more vitamin A than steak! If you're wary of the taste, add a small amount of ground liver to a flavorful meatloaf or make a

pâté

with bacon, onions, garlic, rosemary, and thyme. This can be portioned into individual servings, frozen, and eaten once a week as a food-based "multivitamin." 

Canned fish

: Wild-caught seafood can be pricey, but buying it canned is a great affordable option. Look for wild-caught canned salmon, sardines, mackerel, etc. Just make sure they are packed in water or extra virgin olive oil rather than soybean or cottonseed oil.
Get to Know Your Farmers

If you have the freezer space to buy half a cow from a local farmer, it will save you a lot of money on high-quality meat. Stew hens can be purchased from farmers who sell organic eggs at a fraction of the cost of organic roasting chickens, and when cooked low and slow, they make delicious, nourishing chicken soup. Look for farmers in your area on Eatwild.com and LocalHarvest.org.
Get Creative with Veggies/Fruits

This is one area where many people get tripped up, but there are LOTS of ways to make buying organic produce more affordable.
Prioritize what to buy organic:

Buy the

Dirty Dozen

organic but don't worry about the

Clean Fifteen

.

Choose in-season produce

: It will be at its peak of freshness and affordability. 

Grow your own

: Even if you don't have space for a garden, herbs and microgreens can be easily grown on a sunny windowsill. They will be fresher than anything in the store and way cheaper. 

Volunteer

: Help at a farm or in a friend's garden in exchange for produce.

Pick-your-own and freeze

: When fresh produce goes on sale or is abundantly available, purchase extra and freeze it for later use. For example, pick apples from a neighbor's tree, make applesauce, and freeze them to enjoy throughout the year. 

Celebrate the unsung heroes

: Prices vary widely between varieties of produce, and many nutritious staples like cabbage, onions, carrots, potatoes, and bananas are very affordable.

Embrace the misfits:

Several delivery services such as

Misfits Market

ship fresh organic produce that would otherwise have gone to waste due to slight cosmetic imperfections or overstock directly to your door for a better price than you can find in stores. 

Buy frozen

: Organic frozen berries, broccoli, peas, etc. tend to be much more affordable than fresh and are equally nutritious. Plus, they're great for tossing into quick meals.
Make It Yourself

Sometimes it pays to prioritize budget over convenience. Find a balance that works for you while still making healthy eating sustainable.
Adapt recipes

: Learn to adapt recipes (and cook without them!) so you don't buy a bunch of ingredients you only need for one recipe. Generally you can swap ingredients in the same category and the recipe will still work well. 

For example, replace leeks with onions, cauliflower with broccoli, collards with kale, or ground lamb with ground beef.

Reduce waste

: Rethink the parts of produce that you typically toss. 

Beet greens can be cooked just like Swiss chard.

Organic carrots and apples don't need to be peeled.

Blend the stems of cilantro and parsley into pestos or chimichurri.

The stalks of broccoli taste just like the florets. Peel the skin if tough, slice, and steam as usual. 

Save bones from roast chicken and veggie scraps to make broth.

Pack lunch

: Rather than buying lunch when you're out, make it a habit to bring your own. Not only will you save lots of money, but your homemade lunch will be more nutritious than anything you could purchase. And don't forget a reusable water bottle or thermos of tea. Clearly Filtered and

Berkey

makes handy water bottles with built-in filters perfect for travel. 

Make staples

: Salad dressings, nut butters, and cooking fats are surprisingly easy to make at home and cost way less than the high quality store-bought ones. 

Make coconut butter for a quarter of the price of a jar: blend dried shredded coconut in a food processor until it turns creamy. Almond butter, sunflower seed butter, etc. can be made in the same way.

Render cooking fats such as lard and tallow from pasture-raised pork back fat or beef fat, which farmers often sell for only a few dollars a pound. 

Bone broth is another example of a staple that's pricey to purchase but incredibly easy and cheap to make: simply add bones from a roast chicken to a slow cooker with 2 Tbsp apple cider vinegar and optional carrots, celery, and onion, cover with water, cook on low all day, and strain. Broth can be frozen in glass jars if you leave plenty of headspace for the liquid to expand.  
Avoid convenience items

: While they seem like timer-savers, prepackaged convenience foods like energy bars, beverages, and freezer meals end up costing much more than they are worth. If budget is a concern, it's worth the investment in time to make these items yourself in bulk once a month or so. 

Make a big batch of

protein bars

or trail mix for portable snacks. 

Pre-pack

freezer meals

(casseroles, dump-and-cook Crockpot meals, stews, etc.) 

Freeze leftover cooked proteins (beef roast, diced chicken, etc.) in individual portions for quick-thawing fast food.
Make your own healthy treats

: Paleo chocolates, grain-free crackers, plantain chips, cashew "cheese"… they're fun additions to a healthy diet, but they sure do add up! Eschewing these premade goodies and instead investing in high-quality ingredients with which to make your own (cacao, dates, raw honey, etc.) will save you a ton of money. You don't have to be a culinary whiz to create delicious and healthy treats, as these simple recipes demonstrate: 
As a final tip, get excited about all the creative ways you can save money! Strategies like creating a weekly meal plan will quickly become habits, and you can make batch cooking fun by listening to a favorite podcast or making a game of finding the best online deals for staples. With this shift in mindset, eating healthy on a budget becomes sustainable and empowering. 
20 Free AIP & Paleo Batch Cooking Recipes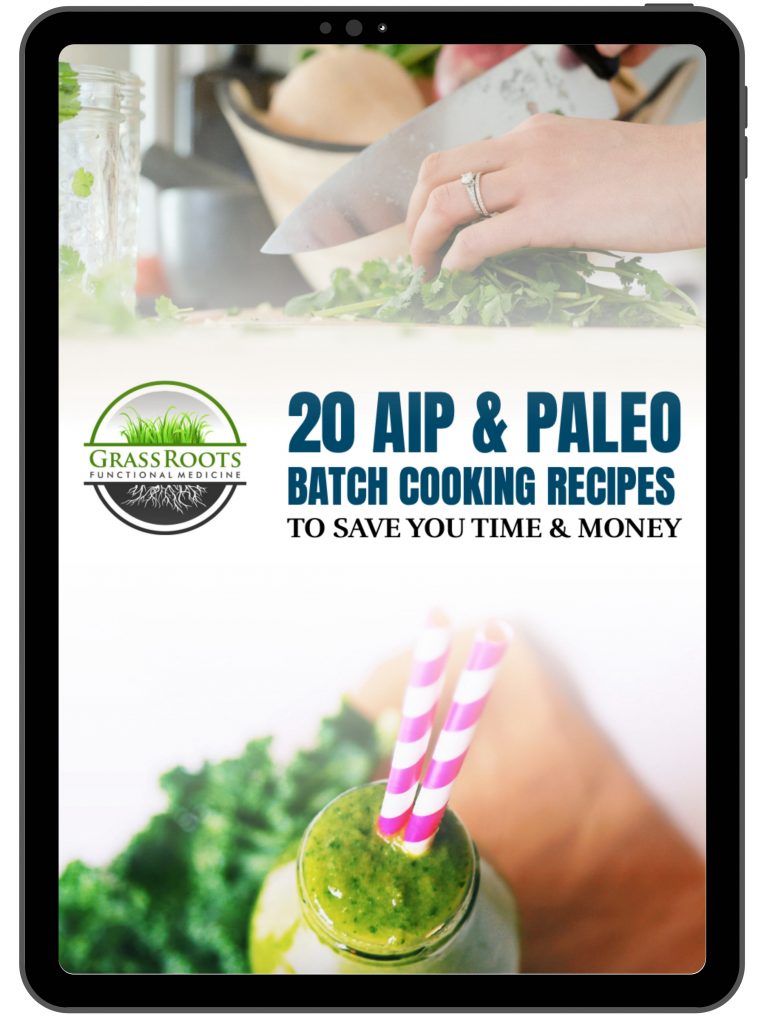 Along with simple tips to make meal prepping and batch cooking work for you, this book will also give you 20 recipes to mix and match for endless meal possibilities. 

Inside, you'll find delicious favorites your whole family will love, including:
– Creamy Mushroom Pasta
– Pesto Veggie Noodles
– Date Protein Bars 
– and more!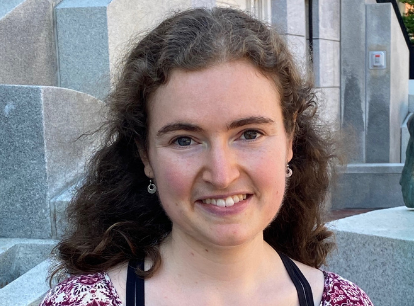 About the Author: Lili Hanft is a certified Functional Nutritional Therapy Practitioner. She is passionate about the power of real food to support the body's innate ability to heal, and she believes that nourishing ourselves with nutrient-dense foods can be a profound source of joy and empowerment. 
Want to work with the GrassRoots team? Check out our Adaptation Program and book your free discovery call to find out if you're the right fit.