This cozy, AIP-approved hot "chocolate" is perfect for sipping by a fire or while watching your favorite holiday movie!
Cinnamon & Carob Holiday Cheer

Ingredients
3 cups unsweetened coconut milk
1/3 cup carob chips
1 cinnamon stick
1 tbsp vanilla extract
1/4 cup maple syrup
Pinch sea salt
Instructions
In a medium saucepan, add the carob chips.
Move the sauce pan on the stove over low heat.
Slowly add in the coconut milk as the carob chips start melting.
Add the cinnamon stick, maple syrup, vanilla extract and sea salt.
Keep a low heat for 20-30 minutes, periodically stir and allow the flavors to mix.
Transfer to mugs and enjoy.
© 2021 GrassRoots Functional Medicine
Free AIP & Paleo Holiday Recipes eBook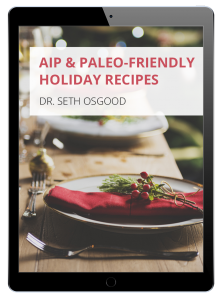 My team and I gathered our favorite gut-friendly seasonal recipes for our AIP & Paleo Holiday Recipes eBook!

Inside, you'll find delicious favorites your whole family will love, including:

 - Pumpkin Cherry Squares
 - Herb Crusted Steak
 - Holiday Stuffed Mushrooms
 - AIP Hot "Chocolate"
 - and more!