The Next Step in Your Health Journey
Transitioning to the Adaptation Graduate Program
After much thought and prayer, we are making a change at GrassRoots that will affect our legacy patients.
As of January 1st, 2022 we will no longer be offering pay-per-visit follow-up appointments.
I created this video to explain why we are making this transition and what it means for you. Please watch the video below and reach out with any questions.
Why We're Making this Change

By now you know that health isn't linear. Things change in your life, new stressors pop up, new symptoms occur, old symptoms rekindle,  and having access to the right tools and support is key for staying on track, or bouncing back after a setback.
We've noticed that our patients who receive comprehensive ongoing care, meaning they get support from myself, our nurse practitioner, our nutritionist, and health coach are seeing the best results, having the best experience, and ultimately getting the best value long-term.
Our practice has grown significantly over the past few years and I have come to realize that for us to continue to provide each person with the proper attention and resources, we are ultimately going to have to limit our number of active patients.
For these reasons and more, we will no longer be offering one-off, pay per visit follow-up appointments as of January 1, 2022.
You will instead have the opportunity to be grandfathered into our annual Adaptation Graduate Program. This program was created for patients who want to continue to work towards optimal health or simply maintain their state of wellness. It's an annual program that sets you up for ongoing care.
The Support You'll Receive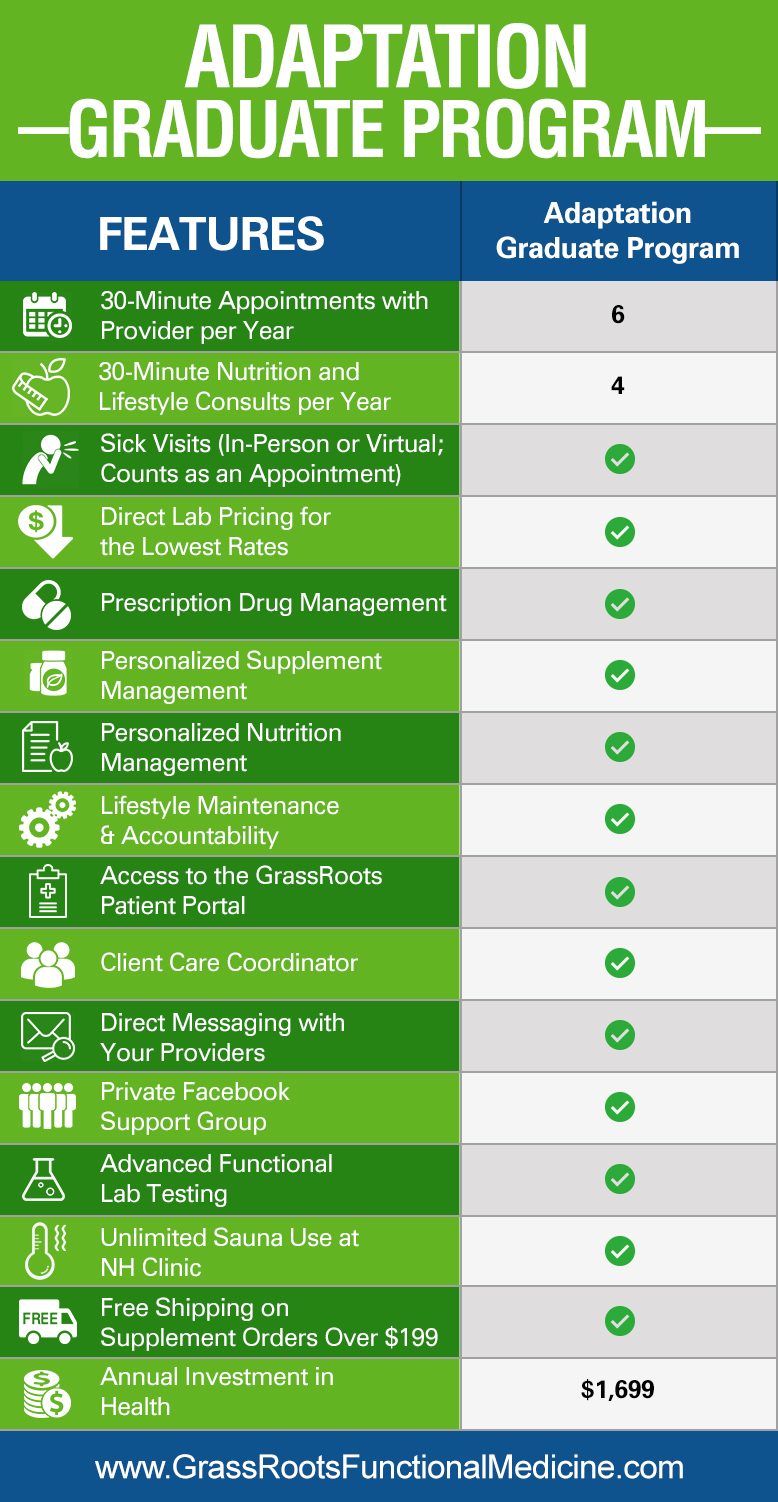 *Important Note*
If you do not join the program by January 1st, 2022, you will no longer be able to schedule follow-up appointments.
You will need to complete the full Adaptation Program in order to continue care in the future.
Have Questions?
We'd love to answer them! 
Just give us a call at 603-277-2199.