Anyone living with a chronic illness can tell you, it is a journey. There are ups and downs, false starts, and wrong turns. Progress isn't linear and there are often roadblocks along the way. 
However, as difficult as it may seem, recovery is possible! 
Our bodies are amazingly designed to heal when we clear the path of obstacles and use the right tools. My friend Dr. Darin Ingels is hosting a free online masterclass next week to share some of these tools and protocols from foremost leaders in chronic illness. 
To help you make the most of that event, I'm sharing the steps I have found to be most beneficial for patients with chronic illness. You can use these as a guidepost when listening to the interviews and charting your own journey back to optimal health. 
1. Remember You Are Your Best Advocate
The medical system can be confusing and overwhelming to navigate. Patients often see numerous specialists who may or may not share information with each other and often have limited time for each appointment. Add insurance companies, medical jargon, and complex test results into the mix and it's easy to get intimidated.
It's helpful to remember that this is your health and no one knows your body better than you do! If a treatment option doesn't feel right to you, you're not seeing progress, or a provider isn't listening to you it's ok to ask for a change.
2. Spot the Patterns
Your environment plays a huge role in your health, including diet, stress, sleep, toxins, and infections. When dealing with chronic illness, there are usually a number of these factors in your history that triggered or are perpetuating your symptoms.
If you track your daily symptom fluctuations in conjunction with what you eat each day, your stress levels, your exercise, and your sleep you can begin to spot patterns.
Taking an in-depth look at your health timeline can also be very helpful in identifying these factors. (This is why our initial appointments with new patients are 80 minutes. In this time, we can comb through a patient's history and put the missing pieces together.)
3. Get the Right Testing
Lab testing in particular can be a minefield to navigate thanks to our current healthcare system. Many doctors won't order comprehensive testing because insurance companies won't pay for tests outside of a very narrow criteria.
But know this, the right testing is worth every penny!
Countless patients deal with undetected Lyme, mold, heavy metal exposures, nutrient deficiencies, and gut health imbalances all because they only received "standard" lab tests.  Autoimmune patients go an average of four years before getting a diagnosis, partially due to limited testing.
If we don't know what's going on, we can't fix it! The right testing reveals the underlying issues contributing to your illness so you can address them and get on a clear path back to health. 
4. Don't Skip the Basics
Every new patient in our Adaptation Programs begins by optimizing the Foundational Five. These are foundational elements of health that help your body repair and recover from the ground up.
Many practitioners skip over these and jump to pharmaceutical drugs or trendy therapies, but they should not be overlooked! I can't tell you how many times I've seen patients make huge strides simply by focusing on these five elements.
Nutrition

– Avoid processed foods, sugar, alcohol, and caffeine and focus on nutritionally dense, whole foods. Eat a wide variety of vegetables, fruits, grass-fed protein, and healthy fats.

 

Movement

– Make sure to move for at least 20 minutes a day outside of your normal routine. That can be taking a vigorous walk, strength training, stretching, cardio, yoga, or whatever form of exercise you prefer.

 

Sleep

– Get 8 to 9 full hours of sleep every night. You can set yourself up for success by going to bed and waking up at the same time every day, spending time in natural sunlight, and avoiding all screens 1-2 hours before bedtime.

Relaxation

– Incorporate at least one stress-relieving activity into each and every day. You can find

a list of simple ideas to try here

.

 

Detoxification

– As I always say, you have to pee, poop, sweat, and breathe! These help mobilize and flush out toxins, so drink plenty of

filtered water

, use an

infrared sauna

or exercise, consume adequate fiber, and filter your air.
5. Be Open to Alternative Therapies
Once you've covered the basics, now it's time to get creative and explore alternative treatments. The great news is that there are many more options available today to support healing than even 10 years ago. Some patients respond better to certain therapies, so it's all about working with a trusted provider to find what works for you.
I've personally seen patients experience breakthroughs with hyperbaric oxygen therapy, low-dose immunotherapy, and biomagnetic therapy after hitting a plateau with more traditional tools.
This is something I find most exciting about the future of healthcare. It's why I started the GrassRoots Functional Medicine podcast, to spotlight and connect practitioners of different therapies so patients can find more ways to heal.
6. Commit to Change
I'll be honest, overcoming chronic illness isn't easy and it isn't quick. It takes hard work, trial and error, and a lot of perseverance. However, what's the alternative? Struggling through life with debilitating symptoms that get progressively worse?
In my mind, that is not acceptable. You deserve to feel the very best you can! The "standard" lifestyle today is not one that supports optimal health, so it's necessary to go against the grain and make changes. This might mean giving up gluten and dairy, switching to toxin-free household products, or trying an alternative therapy.
Tony Robbins is one of my favorite people and I love this quote, "If you do what you've always done, you will get what you've always gotten".
If you really are sick of being sick, you need to take action.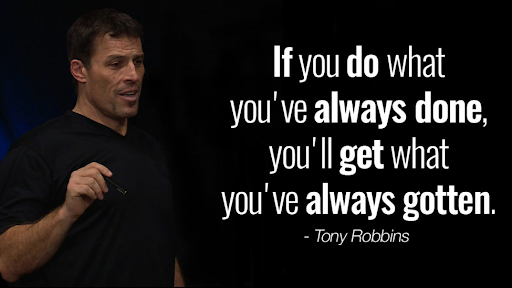 7. Cultivate Your Mindset
I have worked with a lot of very sick people from all around the world and seen some miraculous recoveries and transformations. 
These were people who conquered their health despite being told by their doctors there was nothing that could be done, that it was in their head, that they were just depressed, or medications were the only option.
Reflecting on these individuals, there is one attribute I have noticed in these people that separated them from everyone else, and that is their mindset. 
In order to achieve wellness, you have to believe in yourself, your ability to get better, and your ability to fight the nay-sayers. You can acknowledge that there are hard days and living with a chronic illness is challenging, but remember where you're headed and focus on the bigger picture.
8. Seek Out Community & Support
Living with a chronic illness can feel lonely. Friends and family may not relate to your struggles or may even minimize them saying "well, you don't look sick".
It's helpful to have a like-minded community to turn to for support, motivation, and guidance. It's why we offer a free Support Community on Facebook and why we hold weekly Mindfulness Group sessions for patients in our Adaptation Programs. In these sessions, our nutritionist teaches wellness practices and provides a space for members to connect with each other. 
Hearing a word of kindness from someone who's been in your shoes and is now living symptom-free or who is currently in the trenches with you can make all the difference.
Sign Up for the Free Overcoming Chronic Illness Masterclass
Is your life on hold because of the limitations your chronic illness has created?
My friends Dr. Darin Ingels and Dr. Christine Schaffner have spent the last few months gathering the right experts, research, and protocols to help you unlock your body's incredible ability to heal.
Sign up for this free online training to discover what's making and keeping you sick, and get the tools you need to get back to doing what you love.
About the Author: Dr. Seth Osgood is a Doctor of Nursing Practice, Board Certified Family Nurse Practitioner and Institute of Functional Medicine (IFM) Certified Practitioner. Dr. Osgood received his post-graduate training in Functional Medicine through the IFM and from working with Dr. Amy Myers. He has helped people from around the world improve their health utilizing a Functional Medicine approach.