It's Time For a Smarter Approach to Your Health
Let's transform your health with a personalized game plan based on advanced testing and proven protocols!
Tired of feeling dismissed and unheard?
We provide a plan, a partnership and a promise to get to the root cause so you can restore your health.
If you wish your health care provider would just listen to your story and hear you out, we get it!
We believe that your story holds the answer to your current state of health and how to best restore it. By attentively listening to you, we know exactly where to start and how to best serve your needs.
Our recommendations will include the most appropriate functional lab testing, lifestyle modifications, mindset shifts, nutrition, and required supplement support.
By listening closely, we help you save both time and money.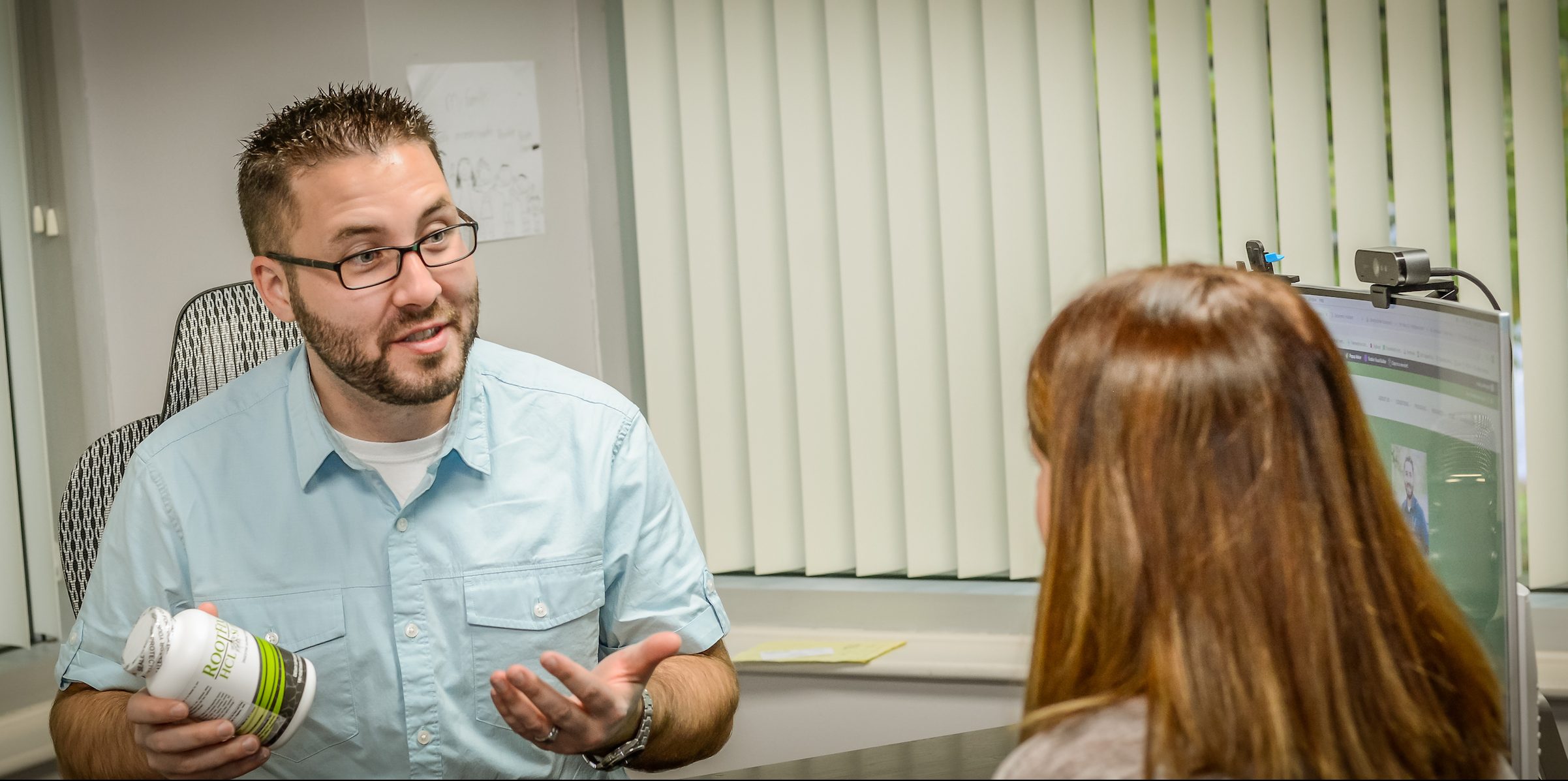 Introducing...The GrassRoots Adaptation Program
Your Personalised Health Optimazation Strategy To Address The Root Cause Of Your Symptoms & Restore Your Health
What Our Patients Have To Say
"Graves' Disease is now in full remission!"
With diligence and support, following the plan we put together with Dr. Osgood, I'm overjoyed to report my Graves' Disease is now in full remission!
"Helped me reverse my autoimmune disease"
When I started seeing Dr. Seth I was lost, desperate and miserable physically and emotionally. I had spent over a year seeing multiple doctors and specialists, none of which could figure out what was wrong with me or help me. Dr. Seth has helped me reverse my autoimmune disease and I am now feeling better and better after each visit! I could not have done it without Dr. Seth's expertise and direction!
"Saved my life!"
After almost a decade of chronic illness, pain and autoimmune issues that should have been under control given my constant care under specialists and physicians alike, nothing ever resolved nor helped and my quality of life was extremely poor. That all changed after seeing Dr. Osgood. Functional medicine SAVED my life.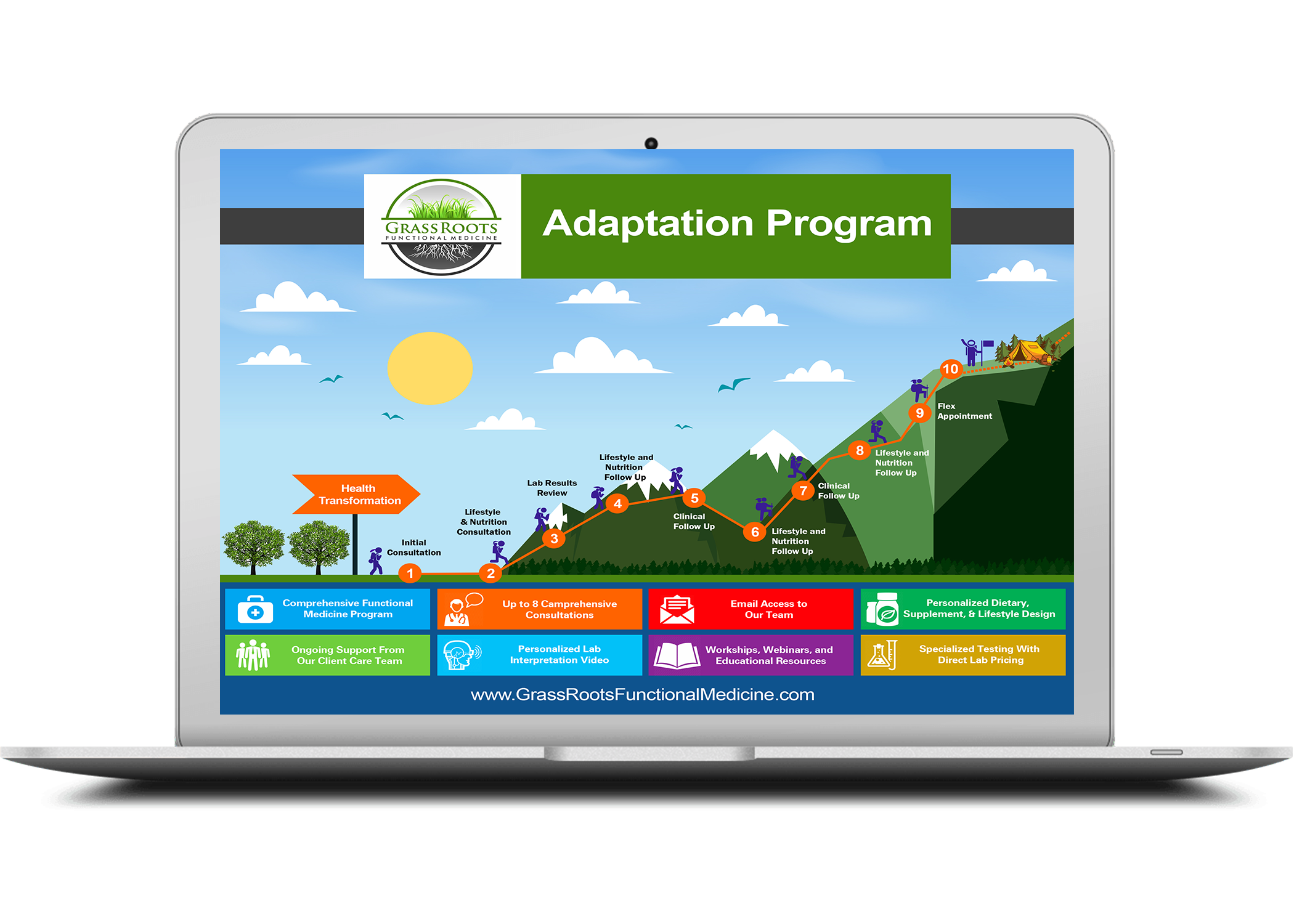 The Highest Level Of Care
Our team will fully support you on your health journey. At no point will you feel alone or on your own.
It is our highest priority to provide you with the absolute best service and guidance.
We promise to listen to your story and develop a lasting relationship.
Learn Powerful Lifestyle Strategies
The GrassRoots Method teaches you strategies that you will benefit from for a lifetime. We believe that the true value of our services start when you leave the office and apply what you've learned.
By educating you along the way, we're able to help you take better care of yourself and your family.
Our goal is to make you "independently healthy."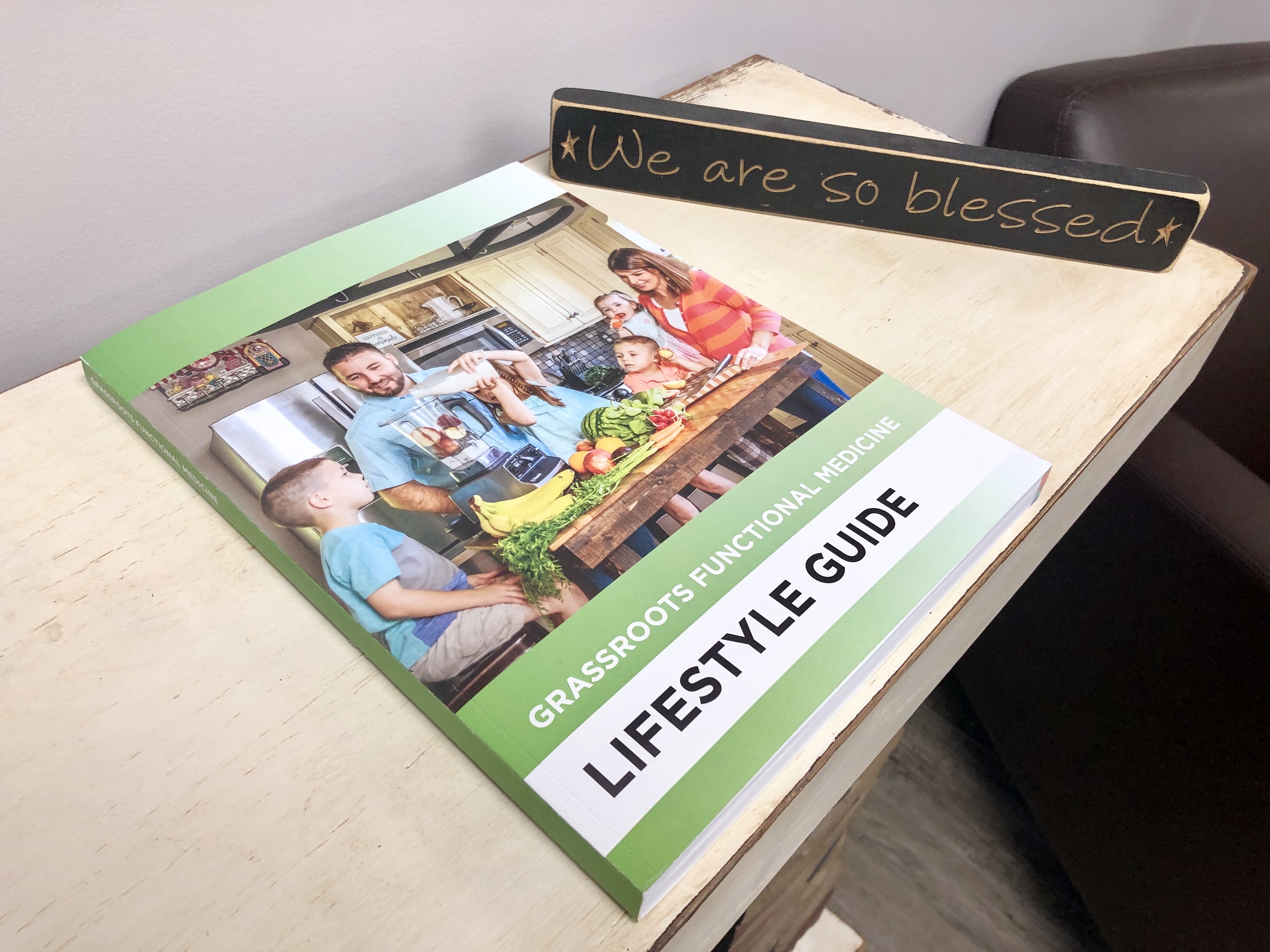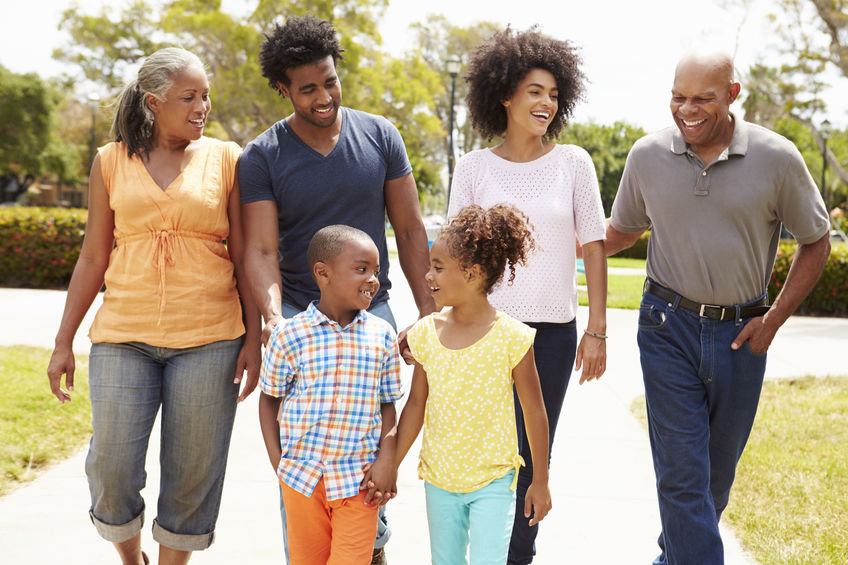 Beyond Lab Markers
Your lab results are just that, a "result." They may not tell the full story of what is going on with your health.
It is our goal to identify what is creating these results so that we can work to reverse engineer a solution for you.
Connect With Our Comunity
It has been proven over and over again that community is the most important determinant to your health and longevity.
This is why we put a lot of time, energy, and effort into ensuring you feel connected to a community of like-minded and like-hearted people on a similar journey as you.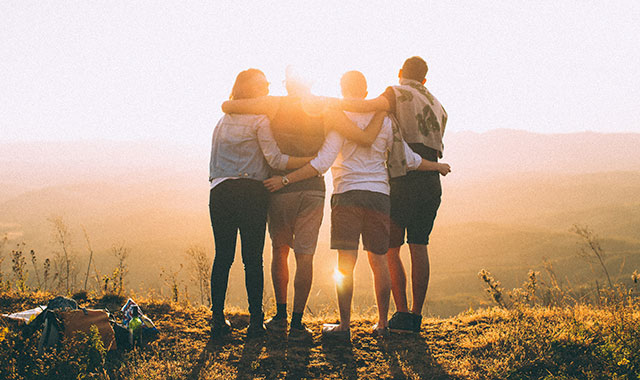 First, watch this video to learn how we will work together to achieve the results you're looking for. Then, pick the program that's right for you.
Adaptation Program
8-Month Program Starting At:
Up to 6 Appointments With Providers
Up to 4 Nutrition Consults
⛔️ Dedicated health coach (Lifestyle, Mindset, Accountability)
⛔️ 10% Discount on RootFix Supplements

✅ Timeline Map of Your Completed Health History

✅ Access to Advanced Functional Lab Testing

✅ Video Walkthrough of Your Lab Results

✅ Discounted Lab Pricing

✅ A Personalized Supplement Plan

✅ A Personalized Lifestyle Plan

✅ Access to the GrassRoots Patient Portal

✅ Timely Communication

✅ GrassRoots Facebook Community

✅ Online Workshops

✅ Comprehensive Lifestyle Guide

✅ Prescription Drug Management

✅ Unlimited Sauna Use at NH Clinic
Adaptation Plus
12-Month Program Starting At:
Up to 10 Appointments With Providers
Up to 6 Nutrition Consults
Up to 6 Health Coaching Consults (Lifestyle, Mindset, Accountability)
✅ 10% Discount on RootFix Supplements
✅ Timeline Map of Your Completed Health History
✅ Access to Advanced Functional Lab Testing
✅ Video Walkthrough of Your Lab Results
✅ Discounted Lab Pricing
✅ A Personalized Supplement Plan
✅ A Personalized Lifestyle Plan
✅ Access to GrassRoots Patient Portal
✅ Timely Communication
✅ GrassRoots Facebook Community
✅ Online Workshops
✅ Comprehensive Lifestyle Guide
✅ Prescription Drug Management
✅ Unlimited Sauna Use at NH Clinic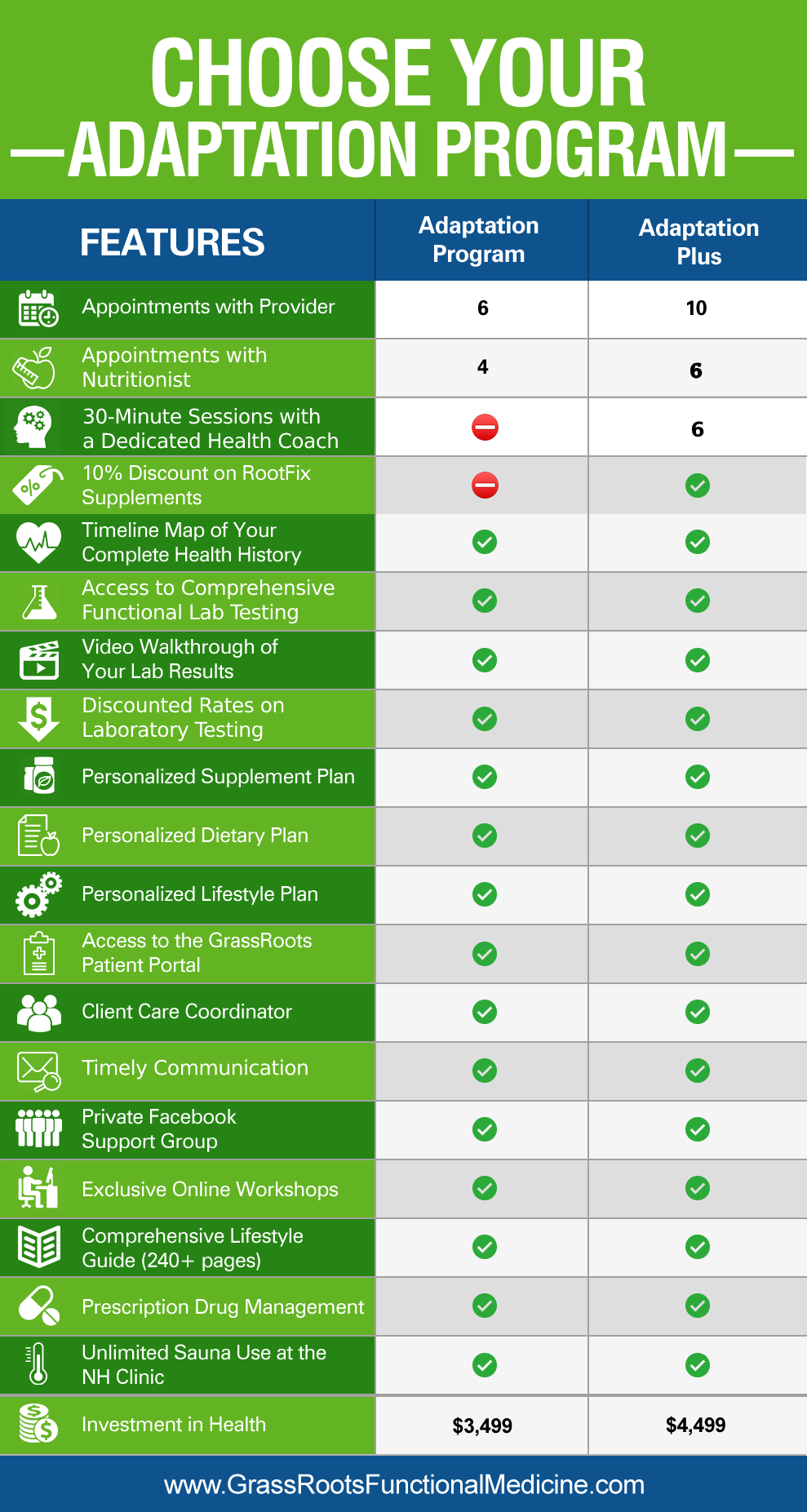 Debunking 5 Functional Medicine Myths
Myth # 1 – I've tried "everything"

This is a phrase that we hear over and over on our discovery calls. Many patients feel like they've done everything that they can to get better. Within a few short minutes, it's clear that there were many stones still left unturned. When a person submits to having "tried everything" they subconsciously submit to the idea that nothing more can be done. Most people we speak to have never had the right functional lab testing, a comprehensive timeline history, or the right guidance to ensure success.  This is where we feel most illnesses and failed attempts to heal stem from. Chances are there are many aspects of your health that have not been fully explored.
Myth # 2 – If this worked, my doctor would know about it
Allopathic medicine operates out of a completely different paradigm than functional medicine. Western medicine focuses on the name of the disease and takes a symptom-based, one size fits all approach. Functional medicine is more focused on the root causes of your health issues and provides a personalized plan. We believe that a combination of both approaches is best for our patients. Due to this difference in paradigms, your allopathic doctor will be more educated in acute interventions to help you FEEL better, whereas, a functional medicine approach will be more focused on helping you actually GET better.
Myth # 3 – I don't have time
Time is your most important asset. We believe that being healthy will free up more time for you to do the things you enjoy most. Our goal is to make time work for you instead of against you. This is why we offer the option and convenience of telephone and video consultations. What you don't have time for is being sick! All too often, we see people who spend hundreds if not thousands of wasted hours researching solutions online, hopping around from doctor to doctor, missing work, and most importantly losing out on quality time with the ones they love. Remember, if you don't make time for wellness you will be forced to make time for illness. 
Myth # 4 – Functional medicine is expensive
This is the biggest misconception about functional medicine. In reality, it is the most affordable form of healthcare on the planet. In fact, insurance companies and governments are now running pilot projects to demonstrate the significant cost savings to both patients and healthcare systems using a functional medicine model. It's always important to recognize the true cost of services that are rendered. Just because something is covered does not make it cheaper. In fact, our average autoimmune patient saves over thousands of dollars each year in medical expenses. It's also important to note that functional medicine teaches you a liberating life skill which makes your care cheaper overtime versus the allopathic model which gets more and more expensive over time (more testing, more medications, more scans) all while not teaching you a life skill or addressing the root cause.
Myth # 5 – I can figure this out on my own
We live in an information era. This means that you have access to all the world's information at your fingertips. what you don't have is information about yourself. This is the missing link in your healing. By having a trained team ask you the right questions and do the right testing, you will have much deeper insights into your personal health challenges and how to overcome them. Functional lab testing clues you into information that you or your doctor would never know otherwise. Our goal when partnering with you is to help identify the root cause of your health problems, teach you the appropriate life skills you need to remedy them and support you as needed. Self-navigating through the sea of conflicting information ends up costing you both your health and your sanity.
Frequently Asked Questions
What's included in the program?
Our Adaptation Programs are comprehensive and hands-on, including 8-12 months of support from Dr. Osgood, our nurse practitioner, nutritionist, and our wellness coach. You will receive a personalized treatment protocol, including a dietary program,  supplement regimen, lifestyle strategies, and prescription medications as needed.
You will meet regularly with our team members one-on-one to ensure you are making progress and overcoming barriers. As you progress, we will refine and update your protocol to ensure the best possible results.
To see everything included in the programs, please review the chart earlier on this page.
Do I see Dr. Osgood for all of my practitioner appointments?
The Adaptation Programs are collaborative programs that are carried out by the GrassRoots team. We believe the more brains on the case the better! You will see Dr. Osgood for the initial 80-minute new patient visit and the 60-minute first follow up visit. The next series of practitioner follow-up visits will be conducted by Dr. Osgood or another Functional Medicine practitioner within the clinic. Each week Dr. Osgood meets with the GrassRoots team to discuss all patient cases so each team member is up to speed with the current plan of care. Dr. Osgood oversees all patient cases from the beginning to the end of your program.
Do you offer financing?

The following options are available to pay for the program: 
One Payment Option- Patient pays one upfront payment for the Program Fee.
Payment Plan– Patient pays 50% of Program Fee upon completion of the initial visit, and the remaining 50% of the program fee will be automatically billed to the card on file 30 days following the initial visit.
Advance Care Financing- Qualifying applicants can apply for an Advance Care Card which can be used for all health-related expenses. If you are going to use the Advance Care Card you must apply at least 7 days prior to your initial appointment so you can use the card at your visit. When you apply online, you will receive an instant answer on if you qualify and what your interest rates will be. Advance Care does offer 0% financing to qualifying applicants.
Do you accept insurance?
We do not accept any form of medical insurance for consultations. We will provide you with an itemized bill with ICD-10 diagnostic codes and CPT codes at the end of your consultation which you may easily file with your insurance company. Some of the laboratory testing we collect may be submitted through your insurance, but we cannot guarantee they will cover any or all of the costs. You may use pre-tax dollars from your Health Savings Account (HSA) to pay for your consultations and lab fees.
How much should I expect to invest in lab testing?
Comprehensive testing is one of the most valuable tools in a functional medicine approach. At your first appointment, we will determine which conventional and functional labs will best help us uncover the root cause of your symptoms.  
Most patients invest an average of $900-$1600 in laboratory testing at their new patient visit.
With the conventional labs that are ordered, you can bill your insurance directly, or you can pay the discounted pre-pay rate we have negotiated with the lab companies. Specialized functional laboratory testing will likely also be ordered at the initial visit. Some of these tests are billable through insurance, while others are direct pay at our discounted negotiated practitioner rates.
How do I get started with a program?

If you are ready for a root-cause approach to your help with hands-on support, submit an application to request a free discovery call. We'll review your readiness to begin and determine together if the program is the right fit for you.
Are You Ready To Lead A More Vibrant Life?
Our team at GrassRoots Functional Medicine strives to provide you with the most effective and medically advanced techniques available. We are here for you… to help you finally reach your desired health goals.
When we speak over the phone, we'll assess whether this program is right for you… and answer any questions you may have. Simply pick a time and date that works best for you!
A final Word from Our Founder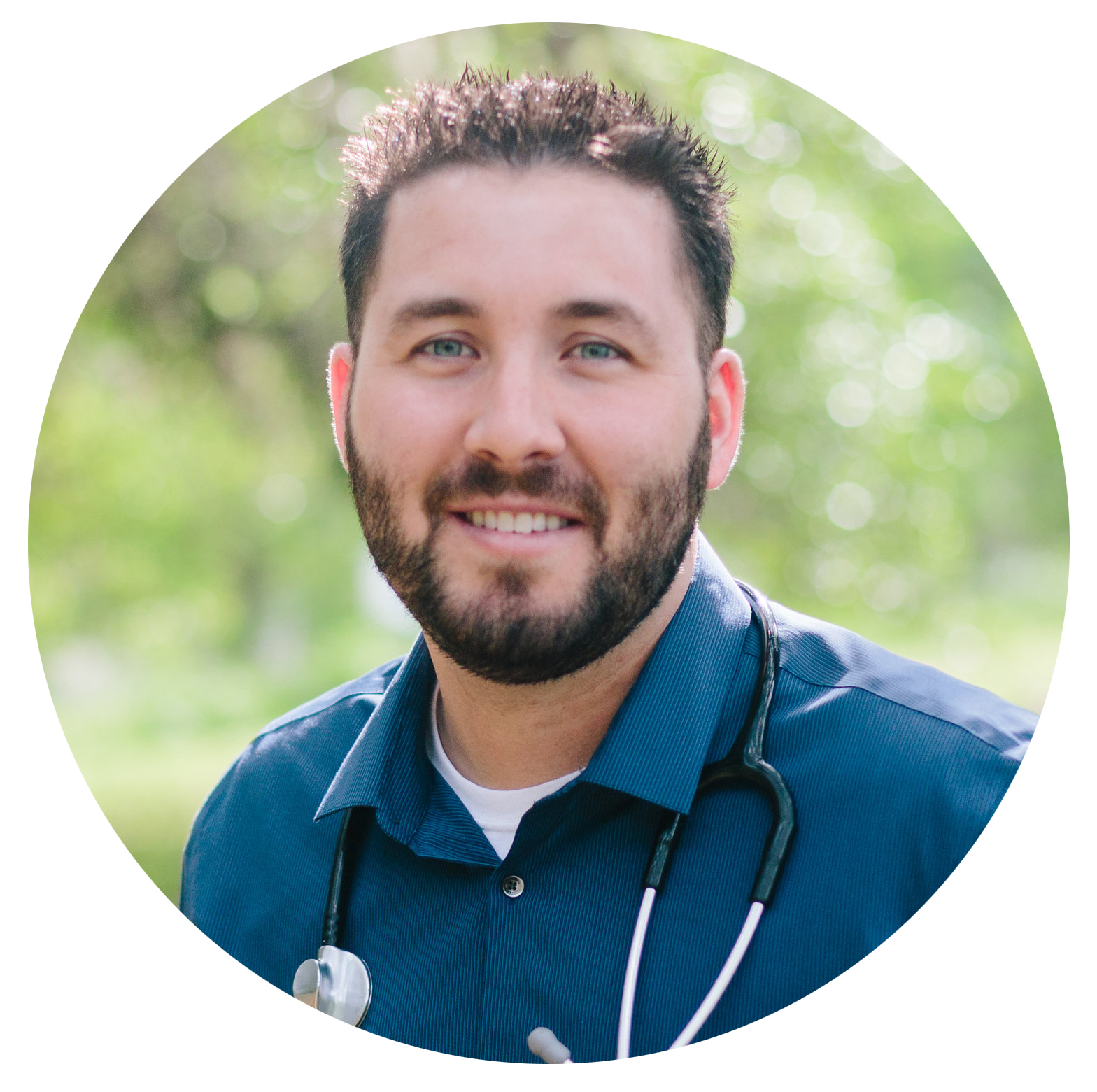 I created GrassRoots Functional Medicine from the ground up to be the most comprehensive, practical, and affordable healthcare strategy on the planet. I've curated compassionate, heart-centered team members to make this a truly rewarding journey for you.
Set up a time to speak with one of our enrollment directors and let's figure out if working with Grassroots is the right next step for you.